Agate Slab with Amethyst Ring, Large Agate Slice on Metal Stand. on Display at Aria Custom Design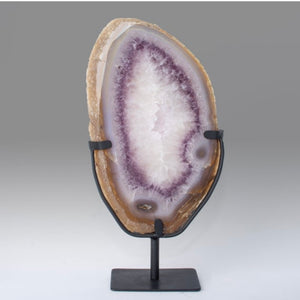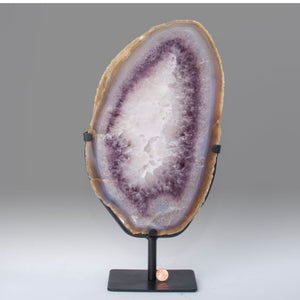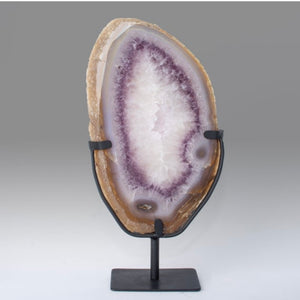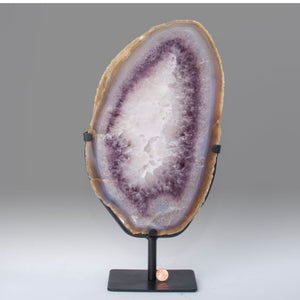 Agate Slab with Amethyst Ring, Large Agate Slice on Metal Stand. on Display at Aria Custom Design
Large Agate Amethyst slice on metal stand. Gorgeous agate geode slice with amethyst crystal ring. Find your vibe with this polished natural crystal specimen from Brazil. The beautiful purples make amethyst one of the most popular crystals. It gives the user spiritual protection and balance. It's used in meditation and has been known to help with developing a person's intuition.
You will receive the exact piece shown in the photos. The geode stand is included.
-Slice WITHOUT Stand-
Length: 7.5"
Depth: 1"
Height: 12.5"
Weight: 5 lb. 5 oz.
-Slice WITH Stand-
Length: 8"
Depth: 1.25"
Height: 152.5"
Weight: 6 lb. 13 oz.2
CRYSTAL MEANINGS
Agate
PURPOSE: Protection, Courage, Strength, Grounding
CHAKRAS: Varies according to color
Amethyst
PURPOSE: Transformation, Protection, Addition Release, Sleep Aid
CHAKRAS: Crown
BIRTHSTONE: February