Home Cleansing Gift Set with Sage, Palo Santo, Selenite, Amethyst, Abalone Shell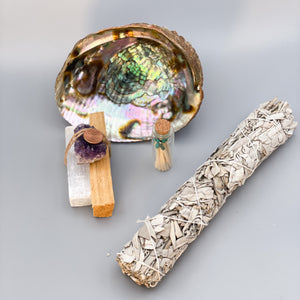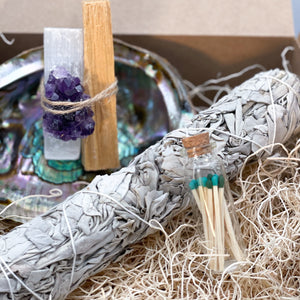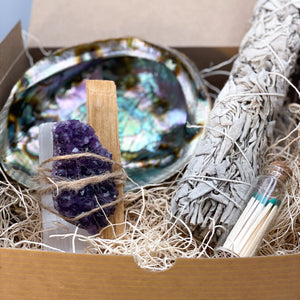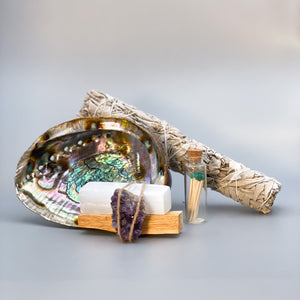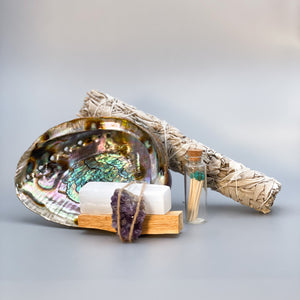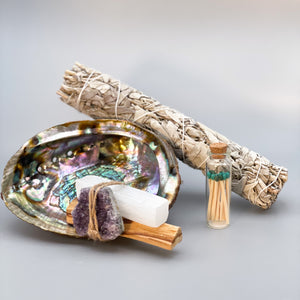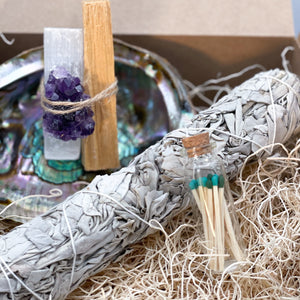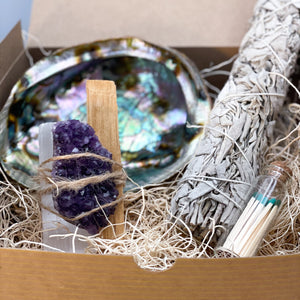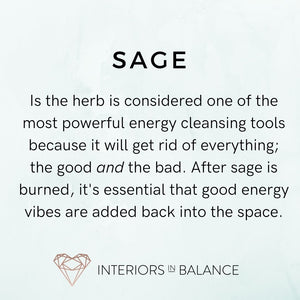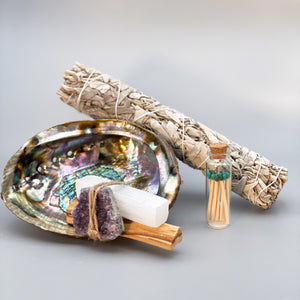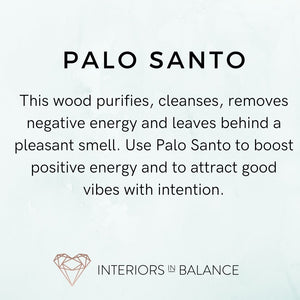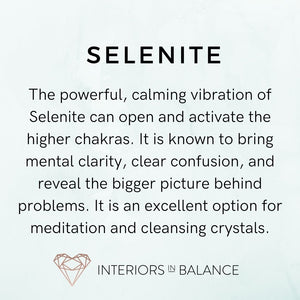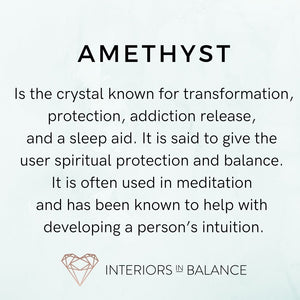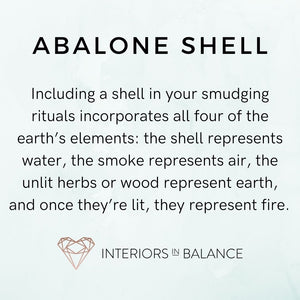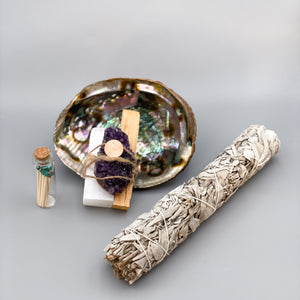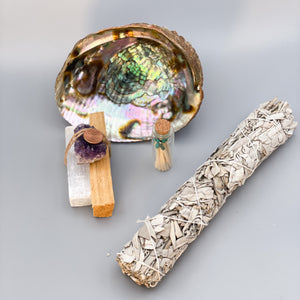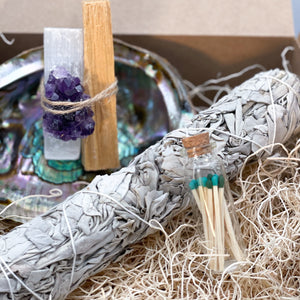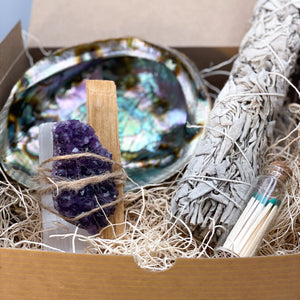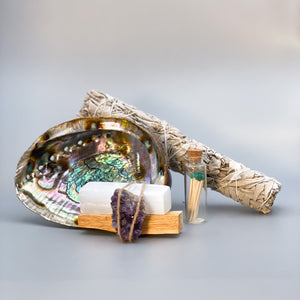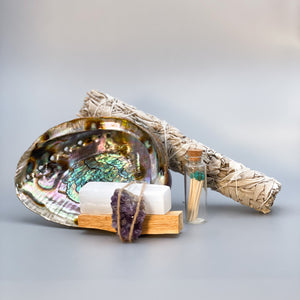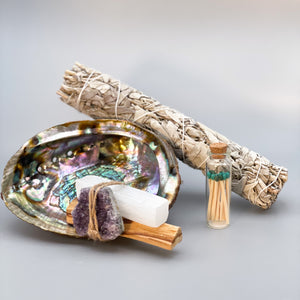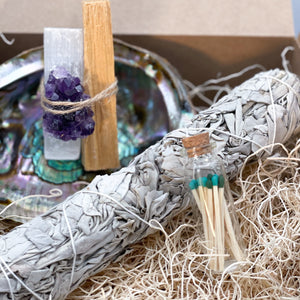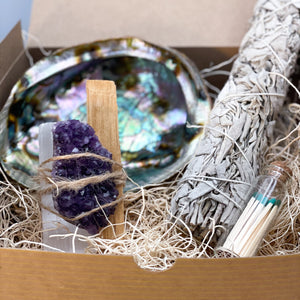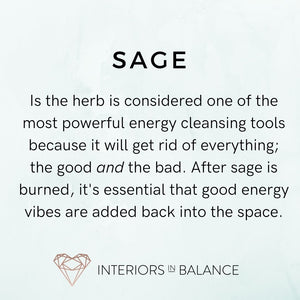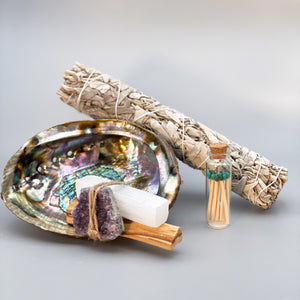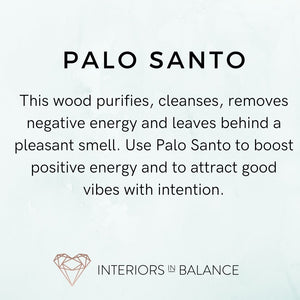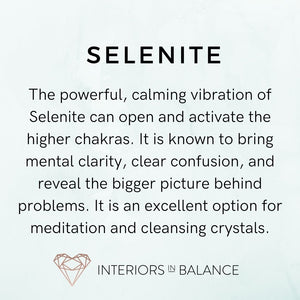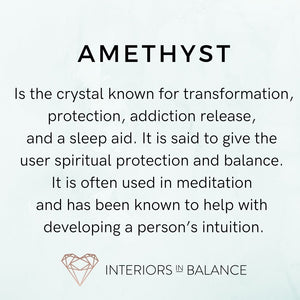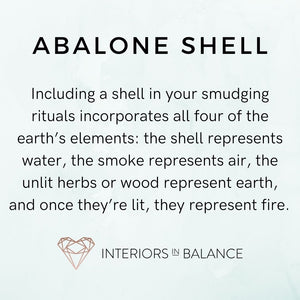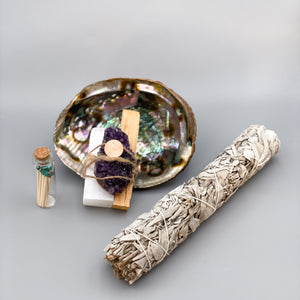 Home Cleansing Gift Set with Sage, Palo Santo, Selenite, Amethyst, Abalone Shell
Cleansing Ritual Gift Set with Raw Amethyst. Burning sage or palo santo wood is a way to release negativity. The smoke is believed to cleanse the space and invites back positive energy and manifestations.
You will receive a gift box with the items listed below:*
- 5.5" Abalone Shell
- 9" x 1" White Sage Torch
- 4" Palo Stick
- 3".x .5" Selenite Stick/Selenite Wand
- Matches in a Glass Bottle with Cork 
*Approximate measurements. Each item varies slightly in shape and color.
SAGE: Is the herb is considered one of the most powerful energy cleansing tools because it will get rid of everything; the good and the bad. After sage is burned, it is essential that good energy vibes are added back into the space.
PALO SANTO: This wood purifies, cleanses, removes negative energy and leaves behind a pleasant smell. Use Palo Santo to boost positive energy and to attract good vibes with intention.
SELENITE: The powerful, calming vibration of Selenite can open and activate the higher chakras. It is known to bring mental clarity, clear confusion, and reveal the bigger picture behind problems. It is an excellent option for meditation and cleansing crystals.
AMETHYST: Is the crystal known for transformation, protection, addiction release, and a sleep-aid. It is said to give the user spiritual protection and balance. It is often used in meditation and has been known to help with developing a person's intuition.
ABALONE SHELL: Including a shell in your smudging rituals incorporates all four of the earth's elements: the shell represents water, the smoke represents air, the unlit herbs or wood represent earth, and once they're lit, they represent fire.
Tip: You may wish to use a layer of sand inside the abalone shell to protect the natural shine that it has, from any smoke or embers.