Moroccan Selenite Tower 6"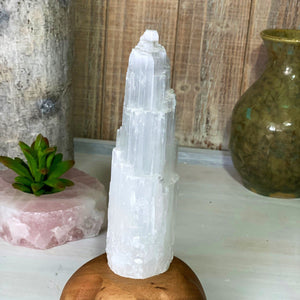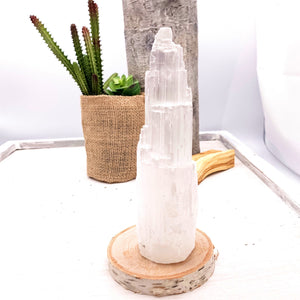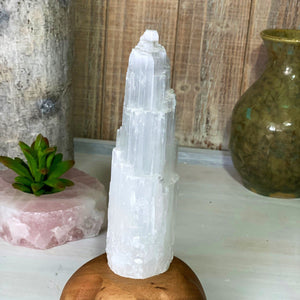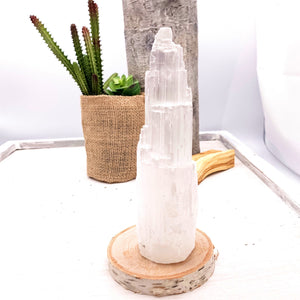 Moroccan Selenite Tower 6"
Known as the Selenite "Skyscraper" or the Moroccan Tower. Selenite Tower from Morocco, Boho Chic, Moroccan Tower, Bohemian Style, Organic Home Accents, Natural Home Decor, Find Your Vibe. The powerful vibration of Selenite can clear, open, and activate the Crown and Higher Chakras. Selenite brings mental clarity, clearing confusion and revealing the bigger picture behind problems.
Selenite skyscrapers are hand shaped from large pieces of natural Selenite/Satin Spar and are "rough cut" to resemble a skyscraper. This crystal is an excellent spiritual healing tool, a decorative piece for your home, or a perfect gift. Selenite is a crystallized form of gypsum and are Satin-Spar, but it retains properties of true Selenite. The name Selenite comes from the Greek word for moon and means "moon glow." Selenite pieces glow with a shimmery, pearl-like luster. A protective stone, Selenite shields a person or space from outside influences and it can be used in a grid around your home or in the corners of a room to create a safe and peaceful space.
Because this listing is for a natural mineral, each piece is unique when it comes to color and size. The image is just an example. I ensure you'll be 100% happy with your purchase or I'll make it right.