Rose Quartz Gift Box, Tourmaline Quartz Candle, Crystal Gift Set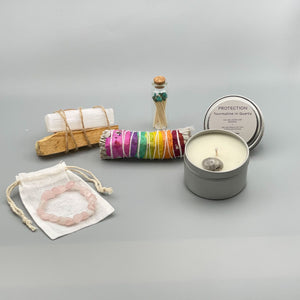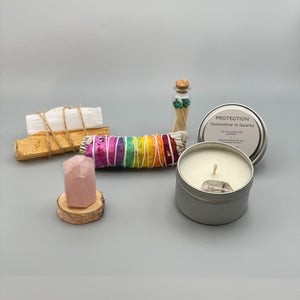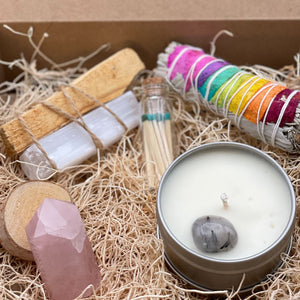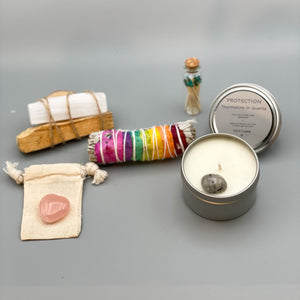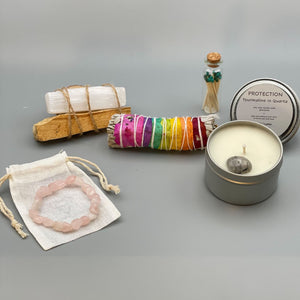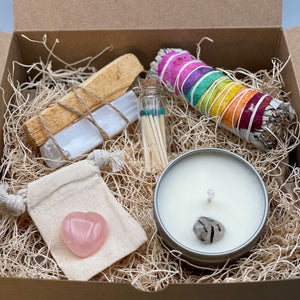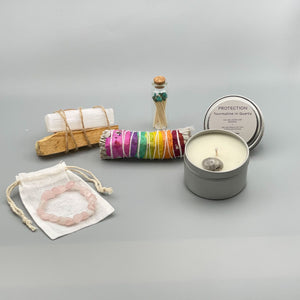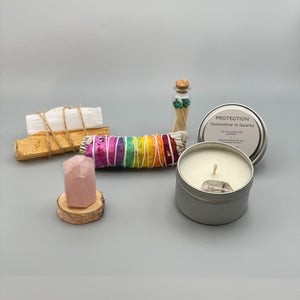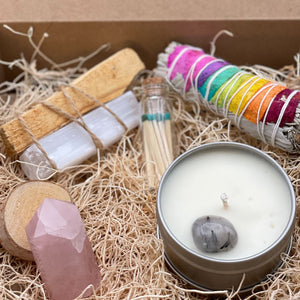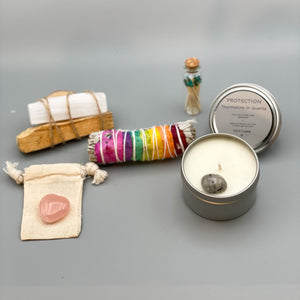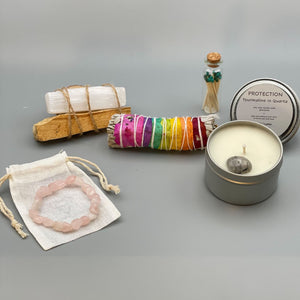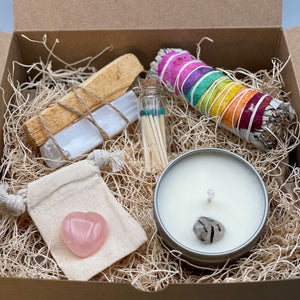 Rose Quartz Gift Box, Tourmaline Quartz Candle, Crystal Gift Set
Are  you looking for the perfect present for the specials friend, mom, or women in your life? In this crystal gift set, you have your choice of a Rose Quartz Tower Point, Rose Quartz Polished Heart or Rose Quartz Bracelet. Once you choose your Rose Quartz selection, your gift box will include one of each of the items listed below: 

1 - "Protection" soy wax candle with Tourmalinated Quartz polished, tumbled stone. The candle sent is sage and oakmoss with hints of lemon peel and moss. Size: 4 oz. / 113g.
1 - Matches in a glass bottle with striker on the bottom. Approximately 15 matches. Round striker on the bottom. Bottles are 2.5" tall and 0.5" wide.
1 - White sage and rainbow rose petals delicately attached to in a 3-4" bundle. This chakra rainbow smudge stick is said to bring love, light, clarity, growth and purpose to your home or work space.
1 - Selenite wand measuring 3" x .5" per stick. Selenite can clear, open, and activate the Crown and higher chakras. It is excellent for all types of spiritual work or meditation. Selenite is known to bring mental clarity, clearing confusion and revealing the bigger picture behind problems.
1 - Palo Santo is a natural aromatic wood incense used for purifying and cleansing a space. The natural wood stick is 4" in length.
1 - Rose Quartz Meaning Card.

Your choice of one of the three following options:
1 - Rose Quartz Tower/Point
1 - Rose Quartz Polished Heart (size: 1 - 1.25")
1 - Rose Quartz Tumbled Stone Bracelet

Shipped in gift box with shredded, natural filler and a ribbon around the box.

TOURMALINATED QUARTZ MEANING
Is known to combine the healing properties of two gemstones: Quartz Crystal and Black Tourmaline. The melding of these two minerals creates a powerful healing energy that restores harmony and tranquility. Clear quartz helps to elevate your consciousness and bring clarity into your life by working as an amplifier. This makes it one of the most powerful tools for crystal healing. The properties of black tourmaline works to reconnect you to the Earth with its grounding properties.

ROSE QUARTZ MEANING
Unconditional Love, Compassion, Kindness, Tenderness, Comfort, Nurturing, Inner Peace
Color: Rosy Pink, Light Pink
Origin: Brazil
Chakra: Heart
Birthstone: January

Rose Quartz is known as a stone of the heart and unconditional love. It offers a gentle, compassionate energy and brings with it nourishing comfort and peace. It holds space as the ideal breeding ground for all things love. It's known to allow the user to open to and accept love from others, and to recognize the unconditional love of the Universe. While it's an important stone for Heart Chakra work, it may also be used to remove negative energy and replace it with positive energy.